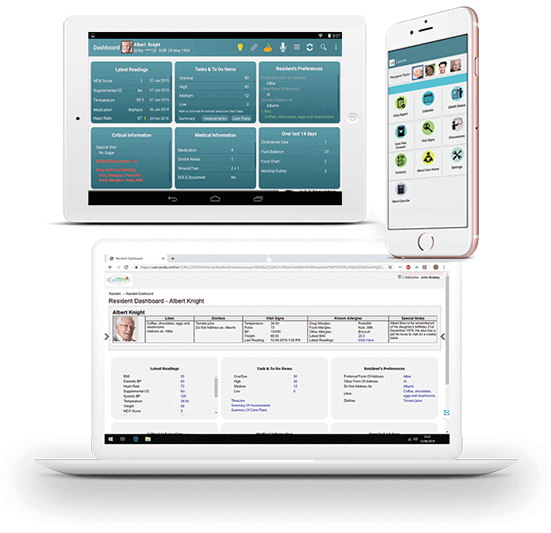 Like it or not, technology has crept into our daily lives.  And now, it has a rapidly growing role in the long term care sector and the ageing population.  Tech-savvy care homes now use powerful tablets and other mobile devices at the point of care delivery to ensure the appropriate care is delivered and on a timely basis.
Care providers have been slow to embrace technology with typical fear of technology and change. The lack of IT knowledge is just one of the reasons why care providers avoid going digital.  The change required in processes and procedures is all too often overlooked or under-played.  The reliance on "good-old paper" that cannot be accidentally deleted is a real factor and change management has to recognise the degree of change many older care workers have to go through before they are comfortable with an alien way of doing things.
John Rowley, Senior Sales Manager from Cura Systems has been a long term proponent of the use of technology in the care sector and has observed "The care home industry is way behind in terms of adopting technology. We at Cura will continually bring care to the next level by working towards more innovative ways in the advancement of technology"
Cura understands the significance of such issues.  Cura technology and processes are designed to make the transition as painless as possible and gain the buy-in from care givers so that the adoption of technology is seen to benefit the caregivers and lead to durable improved performance
Given the plethora of care management systems now available, it has become a mind boggling exercise to weed out the offerings that are good at a specific aspect of the provision of care.  Cura have taken a different approach, the system has adopted a comprehensive approach with the widest functionality in the market.  Its Tablet version, designed from the ground up for caregivers is largely intuitive and requires hardly any training.  But it's not just about adopting technology.  It is about managing the transformation to a new opportunity for the care providers to improve the way care is delivered; admission process, medication management, documentation of residents' records, and sharing of vital information in the care ecosystem.
Electronic Evidence-based Care Systems
In recent statements, CQC (Care Quality Commission) has also urged health and care service providers to embrace innovative digital technologies to improve care delivery. Technological innovations such as care apps and tablets that can help to take more control over care. Find out CQC's strategic priority here: CQC-Driving improvement through technology
With the inevitable onward march of care systems and compliance with CQC's vision 2021, care homes need to be implementing or at least preparing to go digital.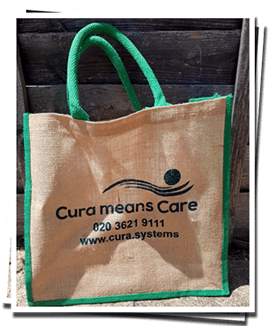 Cura is at the forefront of technology innovation and transforms caregiving. We support care homes of all types and sizes, whether that be a family run, single care home, a larger care provider, or those providing specialised care to service users with complex care needs.
Cura Systems ensure that you get the most out of our care management system and be handheld through the going digital process. Bring genuine person-centred care a step closer and give your care home a competitive advantage.
Speak to our customers to fully understand the Cura Systems way of going digital. Please quote "Cura means Care" whilst booking your Cura demonstration to get your free 'Go Green Bag'.