Cura Clock-in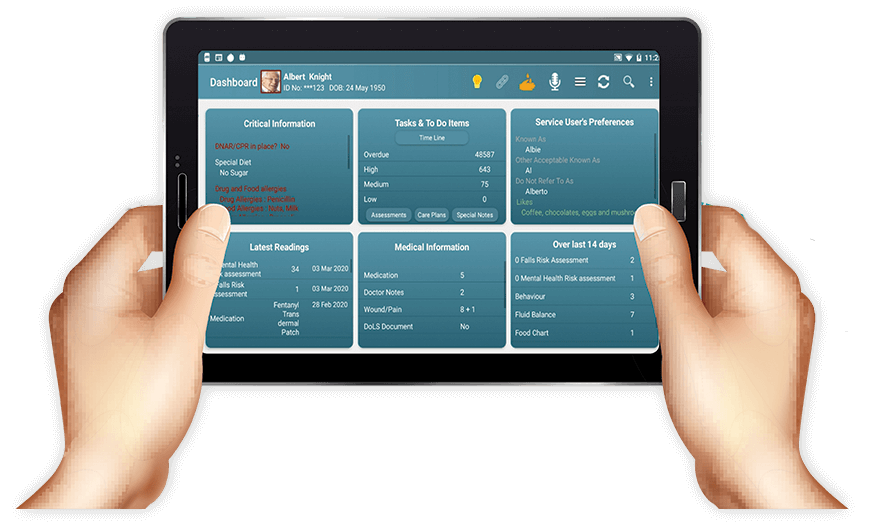 Care Planning System App
Cura Tablet, as the name suggests, is a tablet-based application (app) that is specifically designed for use by the care workers at the point of care delivery. Cura Tablet is also available on your mobile phone as well as your tablet device.
The Cura Tablet care planning system app equips the Care Workers with all the information that is required to provide outstanding care, including:
Overview of their daily tasks
Access the residents care plans and events planner – including residents consent preference for updating the electronic care plans.
How-do-I – breakdowns for each care task in either video, audio or document.
Handover notes – from other care workers
To-do lists – sent from the care managers using Cura Web. Care workers can add if the resident has refused anything and defer to their to-do list for later.
Interactive discussion – with the entire or set groups of the care team and others in the care support ecosystem such as family and friends.
Alerts – if there are any issues with the care delivery, overdue tasks or if the resident is of high priority.
Special reminders – of the residents anniversaries and birthdays.
Residents preferences – the care worker can see the residents likes, dislikes and DNR wishes.
Record health data – be warned when vital sign readings are of concern.
Daily report – the care worker can create reports, photos, voice notes from the resident and lists to send to the handover crew or to the family
Talk to type functionality – save time typing and potential errors.
Auto notes – you can pre-fill the regular notes for the care worker to choose from.
Report incidents
Report repair and maintenance work required
Wound management – with interactive body mapping functionality.
Meal planner – the care worker can help the resident choose their meals, ensuring calorie count isn't exceeded or under (managers are alerted if it is) - the cook can also access the meal choices.
Shower planner – the care worker will know which shower is allocated dependent on the resident's needs (hoist, oxygen, ventilator etc).
Staff training – including HR elements to support the care worker.
Time and attendance – GPS based to ensure the care worker is safe and the care is being delivered.
Cura Tablet helps care workers make better decisions and provide better quality of care.
Cura Tablet also utilises an intuitive module - it analyses the health data the care worker inputs during care delivery and produces a  National Early Warning Score (NEWS) for the resident. The module acts as a mobile care monitoring nurse and will advise the care worker when vital sign readings are of concern.
Give your care home a competitive advantage. Contact the Cura Systems team today on 020 3621 9111.
Next page
Contact us