Managing caregiver resources have never been so critical as they are now with restrictions brought about by Covid-19.  Planning for the right people in the right places plays an even more crucial role in supporting the health and safety of service users.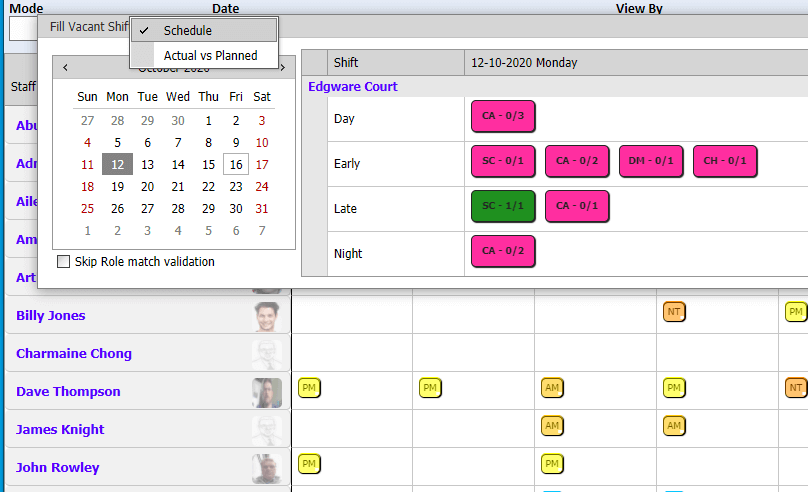 Cura Roster is designed from the ground up, specifically with long term care homes in mind and to address the complex issues arising from Covid related challenges. The Resource Planner responds to the questions: who goes, where for what and when?
Following the successful launch of an Invoicing system in August 2020 that is uniquely designed for long-term care homes, Cura is now releasing its latest module 'Cura Roster' to better manage work schedules with greater flexibility.
This is Cura's answer to getting the most from limited resources within the social care sector. The module comprises a user-friendly interface, including alternative planning views - features that make scheduling so much easier – ensuring the right people are assigned the right tasks at the right time. The new Cura Resource Planner has a completely redesigned "drag & drop" user interface, remarkable flexibility throughout with extensive data validation to provide a simple way to allocate suitable staff to shifts and evidence staffing compliance for both CQC and payroll requirements.
Workforce Management System
The Cura Roster highlights the ability to manage shift patterns, track availability of caregivers, set up job roles, monitor employment & leave entitlements, and seamlessly manage caregivers across multiple locations.
The module boosts the visibility of caregiver workloads and provides better coordination and control of various activities within the home. It also significantly decreases the time, cost and effort put into administration, increases productivity and freeing up precious time for more important tasks.
Here are just some of the benefits:
Simplify Scheduling – Create rotas with a few clicks. You can add staff individually or in batches and register details such as skills, job roles, employment type, location, leave entitlements and working hours.
Up-to-Minute Information - Improve resource management allocation with more accurate data in real time. You can view who is assigned at a particular time and location, and get an instant access to staff's availability, time off, upcoming shifts and other tasks.
Real-time entry to clock in – allow managers to enter shift requirements to have a full understanding on unfilled/vacant shifts, to make sure you have all the required skills to carry out their duties.
Increase Efficiency- Eliminate unproductive manual work with a simplified and highly configurable workflow process.
Reduce Operating and Labour cost – Avoid overstaffing due to scheduling conflicts, minimize risk of understaffing and fill empty shifts.
Centralised Information- Obtain information from various departments or locations at one time and enable management to make critical decisions in a timely manner.
Minimal Training & Implementation Time- Requires minimum training and implementation effort with an attractive and easy-to-use interface
Among its features are:
Drag & Drop user interface
"Filterable" interface to provide the best view for the task in hand
View planned, leave, contracted (including variances) and training hours at time of planning
View by Role, location, staff, skill, preferences
Flexible location definitions and GPS/Facial recognition support for attendance evidencing
Unlimited Shift definitions with capability for "flexi" start, end and break times and allowances
Unlimited variation in calculation of pay enhancements by shift, pay type and occasion
Unlimited provision for leave types and tracking
Provision for planning, reporting and tracking of training occurrences and requirements
Variable and configurable employment types and schemes
Variable fixed working patterns
Configurable provision for Staff skills and preferences by shift, location, qualification and availability
Requirement and compliance definitions and validations
Intuitive tool to check for and fill vacant shifts, optional validation schemes and priorities
Links to standard compliance tool - IORNS
Link to mobile devices for secure Rota information, Rota updates and messaging
Link to mobile devices for evidencing attendance and payroll
Rota can be emailed in various formats
Extensive reporting and dashboards
Effective comparison and reporting of planned Rota vs Actual
CSV export for additional reporting and payroll interfaces
Whilst there are number of care management systems currently serving the market, Cura is the most intuitive care home software in terms of the widest scope of functionality within a single suite of modules.
Cura Systems are equipped with a rich set of tools and features and committed to bringing further innovations to benefit all involved in the provision of care.
Let us help you and your care team with the tools to help deliver the best possible care. Book a full on-line demonstration today on 020 3621 9111  or email at info@cura.systems and see for yourself!