Cura Systems, a well established, care management system has just taken another leap forward with a brand new Invoicing Module designed specifically for the Social Care market.  The care system with its highly configurable modules cover an extraordinarily wide spread of functionality and makes Cura a truly intuitive product.
The invoicing module has been carefully designed to support even the most complex invoicing situations and incorporates processes to highlight errors and omissions, even providing a special interface to enable speedy resolution.  Its workflow has been optimised to provide a logical sequence of processes that give flexibility for different invoicing situations and ease of tailoring the process by Home fees, services, funders or ad-hoc items.
Intuitive Billing Module
Sophisticated funding plans are all user-definable, ranging from multiple Local Authorities, Self-funders, Family funders and unlimited "Other" funders, with each providing sharing or offset arrangements with various limits, calculations and ratios across selected funding streams.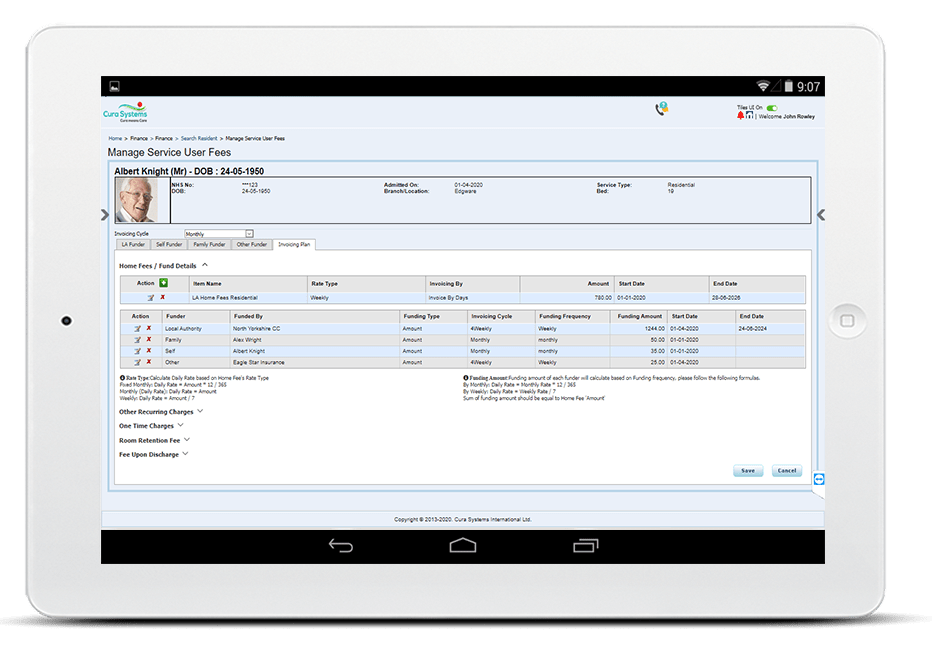 Unlimited services with associated Care Types give the facility to build detailed fee structures. This enables a "shopping list" of services that can be selected for funding streams. This is particularly useful in complex care environments where fees are tailored to client needs.  Cura will validate the entry of fee items on entry to ensure the Invoicing plan "balances" with the selected Home fee by Client.
Cura care software has an innovative Invoice Query Tool that not only provides analysis and reports on completed and pending invoicing but will also highlight Client accounts where invoicing may have been missed for one reason or another and a handy direct link to enable this to be resolved.
Invoices for Local Authorities or CCG grouped contracts can be produced on a group or individual basis and when payment arrives a single entry will allocate to all the relevant Client accounts appropriately. Cura will handle the Debtor support for all accounts and provide the infrastructure to permit account payment from a variety of sources.
The module, due to its enhanced features and streamlined workflow is equally applicable to the smaller care home at is to the medium to large care home group.
Integration into existing accounting systems is provided via an export facility using Microsoft's Excel .XLS or .CSV format.  The Invoicing module allows the user to specify the nominal codes for all items to be exported. Additional specific export routines are provided for Sage50 accounting system.
Ready to get started? Find out what you're missing, call us on 020 3621 9111 or email at john.rowley@cura.systems if you would like to book an on-line demonstration.
Source: Caring UK